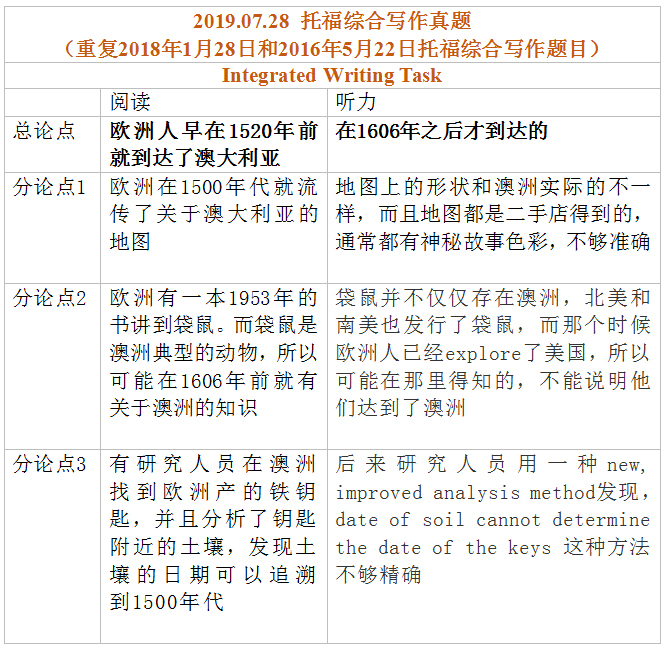 本期考题考察的话题属于托福综合写作考试中考察占比较多一些的历史类话题,并且重复了2018年和2016年的旧题目。考察的的时间类的题目。 历史类的作文在TPO中出现的频率较高,分别出现在TPO44,35 ,33 ,32 ,30,28,18,考生可适度选择上述提到的TPO材料,熟悉相关话题,分析材料结构和写作结构。
Keywords: kangaroo; typically; soil samples; indicate; inaccurate
可以类比下列TPO28的综合写作。
TPO28 the fact whether Robert Peary has arrived at the North Pole
阅读部分:
总观点:Robert 确实去过北极
• Professional committee conducted an official investigation on his records and equipment
• Another man also successfully arrived at the North Pole in less than 37 days using the same tools and number of dogs as Peary did
• Examination on the photos taken by Peary at North Pole proves the truthfulness.
听力反驳:
总观点:关于Peary是否去过北极没有确切的证据,听力中给的证据说服力不够
• 检查的委员会的成员主要是Peary的亲朋好友,因此主观性比较强。另外,检查只持续了两天,Peary自己也说检查的不够仔细,因此不够准确;
• 听力中的那个年轻人的旅行的条件和Peary很不同。一个是他旅行的时候,不需要携带食物,他的食物由飞机投送,因此携带的物品重量底。另外,旅行的时候天气更好,这些条件会让他速度加快,因此他的案例并不具有参考性。
• 由于Peary拍摄照片的工具,拍摄的照片很不清晰,另外很多年已经过去了,照片已经变得更模糊,所以现代技术并不能准确肯定那张照片是在北极拍摄的。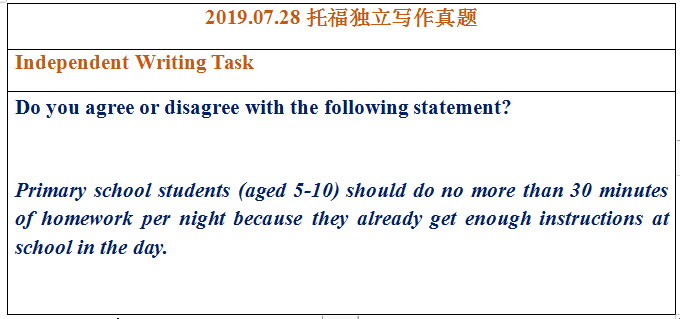 题目解析:
本次题目有限定条件,一个是限定对象,是小学生,年龄段是5到10岁。另外一个前提条件是学生已经在学校里面进行足够多的指导,因此没有必要在做题目超过30分钟。在审题的时候,可以从学生的年龄出发,思考对于5-10岁的小学生,到底教育的目的是什么?想要培养孩子的什么能力?这个年龄段的教育存在的意义是什么? 另外,还可以从前提条件出发,真的学校指导是足够的吗?目前的小学生的现状是如何的?等问题出发。
请参考思路拓展
| | |
| --- | --- |
| 同意 | 不同意 |
| 学业简单,作业样式重复,无需写布置过多 | 学生成绩不一,对于部分学生,课堂上未消化吸收,需要作业巩固练习 |
| 全面发展-留时间培养兴趣爱好 | 小学是重要阶段-为以后打好坚实的基础 |
| 重视提高学习效率-养成良好的学习习惯 | 国内竞争压力大,即使课上学习好了,也应该多学习,提高竞争力 |
| 释放天性-留时间给孩子玩耍 | |
| 作业太多,做不完,影响身体和心理健康 | |
请参考如下范文:
Nowadays, as the competition between adults become more and more fierce, most children are also suffering great peer pressure on account of the fact that their beloved parents force them to engage in various kinds of extra-curricular activities so as not to be left behind by other kids. Under this circumstance, many schools are demanding that students do assignment for more than 30 minutes. While a number of individuals deem it reasonable, from my perspective, I contend doing chores for less than half an hour per day is enough for the following reasons.
First and foremost, as homework is to enable children to master academic knowledge, to improve their learning efficiency is the most indispensable goal that we need to realize. That is to say, to prolong time does not make sense, because in this way, children may have a false understanding that no matter they truly acquire the knowledge, they will have to do the repetitive homework. As a consequence, they may lower their learning efficiency. Taking my litter sister as an example who is a top student at school, my mother-a college professor has being attaching importance to her study productivity instead of study time, this little girl gradually develops a good habit of completing her homework the minute she comes home effectively and efficiently. Nonetheless, most of her classmates usually spend 2 to 3 hours doing homework under the request of their parents. Form this case, I draw a conclusion that it is the learning efficiency that really matters for academic performance.
What's more, for children aged 5-10, academic pursuit is not the most crucial one but all-round development. In other word, supposing that it takes a lot time for children to do homework, there will be a little time left for the development of their hobbies and interests. Study, indeed, is of great significance, however, developing children's hobbies and enriching their childhood should be given top priority. Childhood is the most imperative period of time when parents can spend quality time with their children and boost parent-child relationship. If it is filled with nothing but infinite homework, when children turn adult and retrospect the time when they are little, I bet they will definitely feel regretful.
Last but not least, too much assignment will exert a harmful influence on the mental and physical health on children. Not only may they become short-sighted, but also they could become an asocial introvert. Recently, I have been reading a book called Unterm Rad, written by the famous German author Herrmann. What impresses me most is that the protagonist had a pathetic children. Even though expert in study, he had no friends. In the end of the book, he could not find the meaning of life. Consequently, he suffered from depression. Fabricated as this novel is, as the old saying goes, art comes from real life, thus I contend there must be some similar tragedies. As a result, I have a firm belief that health is more significant compared to study.
In a nutshell, since children are still young and invigorated, it is advisable for them to enjoy their lives by spending leisure time with intimate friends, parents so as to remain healthy both mentally and physically. As for study, the key to a high grade is the efficiency of learning.
英语高能高分·就上新航道 >>点击在线咨询<<
400-009-9696