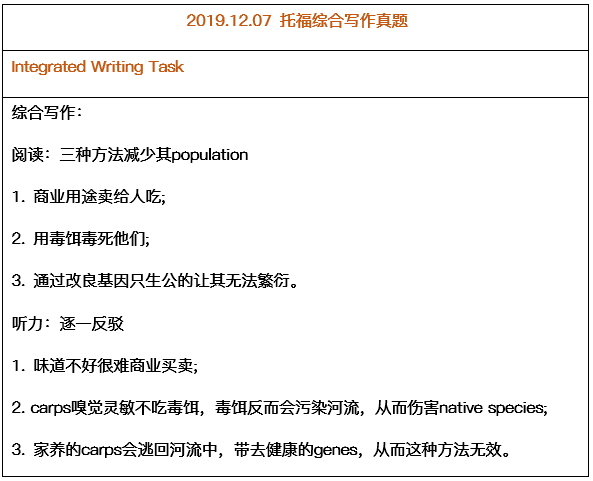 生态类依然是综合写作的常规考点,尤其是生态中的生物类。关于阻止某种生物蔓延方法在TPO中出现过,TPO15, TPO26。同学们可以针对性进行练习,以熟悉相关表达。另外,生物的数量减少的原因的探索,以及针对某种生物数量减少的策略,也是TPO的常规考题,可参考TPO10, TPO17, TPO23, TPO34, TPO39, TPO42, TPO48.
这里列出TPO15的考试内容以作参考:
阅读:阻止cane toad在澳大利亚的蔓延的方法:
1. 建立一个全国范围的栅栏,阻止cane toad向澳大利亚更多地方蔓延;
2. 由志愿者抓住并且杀死这些toad以及他们的eggs;
3. 采用病毒virus感染的方式
听力:这些方法不可行,并且有可能会造成environmental damage;
1. 栅栏不能阻止这些toads穿过,因为他们可以在rivers和streams里面流动;
2. 志愿者可能inadvertently伤害本地的frogs,因为很多人不能分辨toads和frogs;
3. virus会感染其他爬行动物reptiles,研究者可能会将这些爬行动物带到其他地方,从而造成病毒的传播。

题目解析:
今年传媒类考察比例相对于往年有所上升,考生需留意相关的题目,并且积累相关表达。截止于12月7日,共考察三次传媒类话题,其中包括具有一定争议的11月2日考题,因涉及政治立场而让很多同学刚刚看到题目的时候感到不适应。
11月2日考题:(A/D) Celebrities should make their political views known to the public.
本次考题(12月7日)虽然没有涉及到很敏感的话题,但是因为出题相对较为抽象,也具有一定的难度,与同学们所习惯的常规话题不太一样。思考时可以从实际生活中的例子,比如三观很正,或者过于不正的电影电视给人们带来的影响出发,想出相应的观点。比如,在网上争议很大的《我的前半生》等电视剧。
同意与否的题目写作时相对较为灵活,可以写一边倒式两个或者三个观点,也可以写2+1式,两个观点加上让步。范文采用的是一边倒的挂你单。
请参考如下范文:
Nowadays, with the prevalence of mass media and the popularity of smart phones, people spend more time watching movies or televisions for either accessing the latest information or just killing their time. To satisfy people's needs, different kinds of movies or programs keep emerging one after another, and some of them are really violent and even immorally wrong. As a result, some people claim that movies and television programs should only be allowed to present stories that good people be rewarded and bad people punished. From my perspective, considering the substantial effects movies and programs would have on people, it is of great importance to restrict the type of stories played.
Firstly, children and juveniles would easily be misled. Being born in an era of information, a significant proportion of these youngsters are used to watching movies and TV programs for entertainment. Thus, their understanding of the world-how it works and what social norms people should obey-comes largely from movies and televisions. They would imitate what they see in the movies. However, since most of them lack the ability to distinguish right from wrong, they have no idea whether what they are doing is right or wrong. There is a high chance that they would develop some bad habits and, even worse, go astray. For example, a boy watching a movie in which teenagers bully others without punishment would be more likely to bully his classmates one day.
The impact of morally wrong programs or movies is being felt beyond the juveniles. Adults, especially those who have a tendency to do harm to others for their own interest would also be negatively affected. Some people are self-centered and aggressive. They want to make easy money without taking efforts. Movies or programs in which bad guys run away without punishment would encourage them to imitate the behavior because they believe that they can get what they want and escape from the penalties. For example, the plot that a bunch of robberies rob the bank and become millionaire would easily attract potential criminals' attention. Driven by the high profits, they would run the risk to mimic the robbers and the rate of copycat crime would increase dramatically. On the contrary, if, in the movies and TV programs, bad people are punished, it can act as a deterrence, preventing people from committing a crime.
On top of that, movies and programs in which kind people do not get what they deserve and bad ones be rewarded would be detrimental to audiences' emotions. People watch movies or TV programs mostly for relaxation, especially those who live under great pressure and who are struggle with their life and work. After a whole day's hard work, they'd like to immerse themselves in the plots to temporarily escape from the worries and trivial things in the real world, hoping that they can get comfort and confidence through watching other people's successful stories. However, being overly exposed to the dark sides of the world, people with a conscience would very likely lose their confidence and question the meaning of life. They would feel depressed and frustrated. In contrast, morally right movies and programs can be a great encouragement to people to convince them that their kindness is worthwhile and their efforts would pay.
In conclusion, the fact that juveniles and potential criminals would be misled, and that ordinary people's emotions would be negatively affected proves the case for the restricting the type of stories presented in the movies and TV programs.
英语高能高分·就上新航道 >>点击在线咨询<<
400-009-9696