作者:北美考试教学中心 托福写作组 叶建萍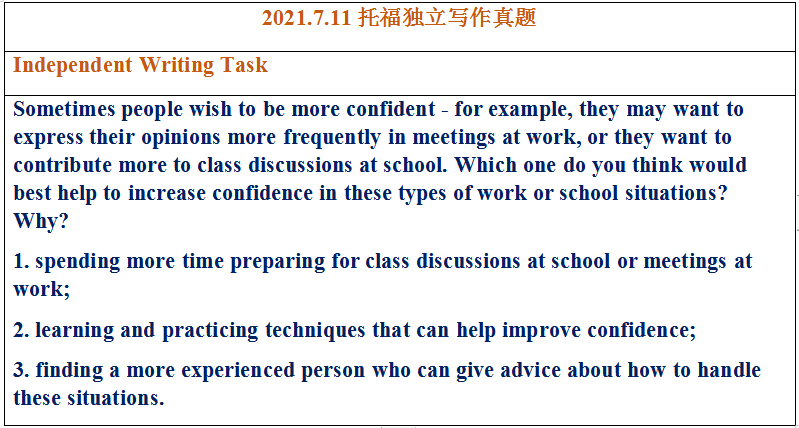 When working or studying, people, more often than not, are invited to attend diverse meetings or engage in group discussions, hoping to acquire more information or showcase personal skills. In this case, these participants ponder how to take full advantage of these activities or perform confidently in front of their partners. Compared with preparing or practicing in advance, I am in favor of turning to experienced people for help.
First of all, valuable advice or suggestions will be given by people with experience before the discussion and meetings. To be specific, a green hand is bound to encounter numerous unexpected problems, such as how to conquer stage fright, what kind of clothes they should wear or how to attract the audience's attention, etc. On the contrary, it is out of the question to find the solutions by oneself since they lack the ability and awareness to anticipate every possible problem, even though they make full preparation or practice relevant skills frequently beforehand. It is this shared experience from others that guides them to overcome difficulties and builds up their confidence. Plus, blessed with the positive information derived from experienced people, the candidates in the meeting or discussion are more likely to find an acceptable alternative when emergency occurs, or win the favor from team members, finally achieving success as expected.
Admittedly, both making enough preparation and doing practice deliberately will help people to become familiar with the topic of these activities and hone their skills to ensure that they will make presentation successfully or communicate ideas fluently. However, the negative effect of these two approaches on one's confidence should not be ignored. In other words, without the guidance given by those knowledgeable people, the beforehand preparation may turn out to be useless and time-wasting. Also, practicing techniques in the wrong direction will lead people to encounter more failures and to make thing worse: some may eventually lose confidence and deny their capability.
In conclusion, considering the drawback of preparing and practicing skills before activities, it pays to seek advice from those who have rich experience, with respect to building confidence.