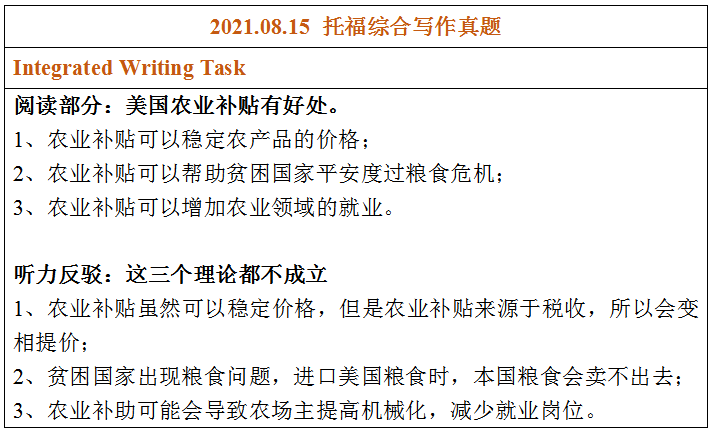 本题重复2021年6月5日综合写作真题,考察话题难度一般,属于在托福综合写作考试中出现频率中等的政府类话题。在TPO中涉及到政府相关话题的比如TPO 22, TPO 53等。希望从这些综合材料能给考生关于这类话题提供可借鉴的解题思路。
Keywords: job security, subsidy, world hunger, go out of business等。
可以类比以下TPO综合写作。
TPO 53
阅读部分:
总观点:应对包括烟草在内的不健康食品实行高税收。
• 提税抑制人们买不健康食品的冲动;
• 不健康饮食者多交税,为自己不健康行为产生的可能的就医费买单,非常公平;
• 增加政府财政收入,惠及大众。
听力反驳:
这三个理由都错误
• 仍然会买不健康食品;
• 考虑到收入差异,提税的政策并不公平;
• 税收过于丰厚,导致政府在打击不健康饮食方面的力度不够。
TPO 22
阅读部分:
总观点:ethanol不能很好取代gasoline
• 无法解决最关键的环境问题;
• 将大大减少可供使用的植物数量;
• 给ethanol producers的税收补贴让ethanol在价格上永远不能与gasoline相比。
听力反驳:
这三个理由都错误
• 种植树木可以抵消二氧化碳的排放;
• 用不被动物吃的cellulose来生产ethanol;
• 一旦ethanol的购买需求增长,其价格会下降,所以将来在价格上有竞争力。
题目解析:
2021年8月15日的独立写作重复了刚过去不久的6月5日原题(综合写作也重复的这一天),为个人生活类话题,难度不大。提及"用自己知识经验解决问题"和"寻求他人建议解决问题"两个选项,需注意对比。
如果选择以独立解决问题,理由可以有该做法的好处,即锻炼能力,学习更多知识技能,以及"反面做法"的弊端,如他人也并不总是有空来提供帮助,他人建议并不一定适合自己等。如选择依靠他人建议,理由可以有节约时间精力,向他人学习等。本文选择"独立解决问题"。
When a problem presents itself, handling it by applying one's own knowledge far outweighs by seeking others' advice.
First and foremost, intellectual activity is prompted when people use their initiative. Senses of achievement are favored by all. And the pursuit of it will in turn act like a catalyst, facilitating the intellectual growth. But make no mistake, this fulfillment cannot be gained by turning to others but by independently rising to the occasion. My experience may be that of many others. Once, a video popping up on the social networking sites about coping with stress came to my notice, which did not arouse much attention though, till one day I was asked to make a speech at a ceremony. In a cold sweat before the presentation, I recalled that video and started trying the breath control and positive mind as the video stated. Little by little, confidence filled me and the presentation went just well. This experience, apart from bringing cheerfulness, also introduced me to the fulfillment of cracking problems with my own knowledge. Later on, driven by the desire to independently solve more problems, I found myself increasingly attentive to and reflective on the information exposed to me, whether it is about recipes of making salad, or tips for financial management, due to the sudden realization that what I learned would come into handy someday. Therefore, independent problem-solving actually created a virtuous circle, turning me from a passive learner who receives information with little intellectual involvement, to someone who is ready to absorb knowledge in various forms. Had I sought others' help to fight the stage fright, fulfillment would have been impossible and active learning unlikely. Thus, an argument can be made that the more chances of coping with a situation by oneself, the more he or she is intrinsically motivated to take in knowledge actively.
Besides, it is ingenuous to suppose that support from others are always readily available. There is no lack of anecdotal evidence that skills to tap into the wisdom and draw on the experience from others set one ahead of others. However, one thing fails to be taken into account here is that most people have a tight schedule thrust upon them in this fast-paced life nowadays, hence the prospect that those who you count on cannot always stand by. To illustrate, your husband who used to be your go-to person when the car breaks down may be away on a business trip for the time being; the coworker you usually turn to with problems in English contracts can be in the middle of a meeting, and cannot come to your assistance until 2 hours later; and if you post your puzzlement about the lagging computer on a forum in the hope of pooling the ideas online, several days may pass before you get the first reply. Thus, other people's advice may not be so easily accessible. In addition, there is the likelihood that suggestions offered can hardly be applied. As a broadly-disseminated idea goes, there are no two identical leaves in the world. Likewise, people are too different from each other to make one's experience satisfactorily fit another. For example, when it comes to how to relax after a day's labor, workout may not be a desirable choice for manual workers even if it is highly recommended by people with sedentary jobs; also, watching a film, which is sought-after by movie-goers, fails to find an echo in game players who can't help but keep dozing off in a movie theater. By contrast, one's own knowledge and experience will be at his or her disposal at any time, and concerns for the applicability to a different person will be saved.
Judging from what has been discussed above, the conclusion is safely drawn that independent problem-solving outcompetes seeking others' advice with its greater availability and better effect in intellectual growth.