作者:北美考试教学中心 托福写作组 叶建萍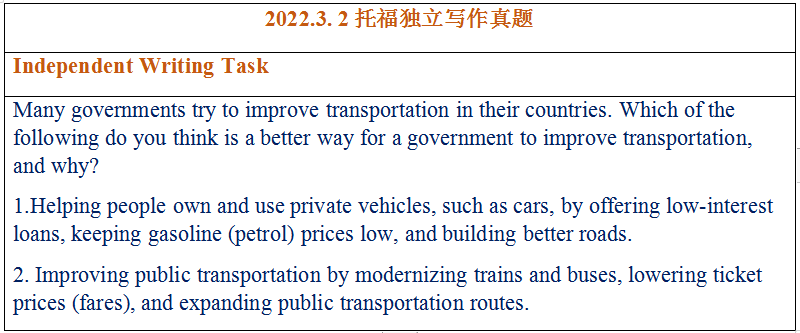 Traffic jams can be caused by many factors such as an accident blocking a lane, a construction zone causing a bottleneck, or inclement weather conditions that affect all drivers, which has a big influence on the way a country develops. Therefore, governments across many countries are coming up with innovative solutions to improve transportation, for example, people are encouraged either to purchase private cars with many subsidies, or to take public transportation with flexible policies. Taking many considerations into account, I advise the government to enhance public transportation because this recommendation will make public transportation more attractive to passengers and make governments more efficient to operate.
First of all, giving every citizen access to safe, reliable and frequent transportation rather than helping to buy private vehicles, will contribute to reducing road congestion. To be specific, on the one hand, if governments provide quality transportation to the public, such as guaranteeing a train or bus arrives on time, feels safe and looks clean, in addition to being available everywhere, more private car owners will refuse to use their own cars or even give up driving to work, for the sake of convenience during rush hours or in a congested area. Consequently, efficient public transport makes commuting more charming to commuters and hence the traffic congestion in urban areas will be reduced to a great extent. In contrast, if governments issue the policy to subsidize potential car buyers, the increase in traffic congestion on urban roads is more likely to happen. On the other hand, the environmentalist movement in recent decades has prompted many people to make substantial lifestyle changes to commute in a more environmentally friendly way and therefore, they prefer to travel by public transportation instead of by driving their private cars, hoping to reduce the emission from vehicles. As a result, improving public transportation is easier to boost the transport system in cities.
In addition, in terms of governments, the policy of funding individuals to buy or use a private car is a huge financial burden and difficult to be implemented. In other words, the amount of money spent in constructing traffic infrastructure, like better roads, is higher than that spent in improving existing public transport systems, let alone offering low-interest loans and reducing the price of gasoline, which is beyond the power of local government. For example, last year, the government in my country planned to provide people with a better traveling experience by building a wider road in urban areas. Initially, the budget is expected to be less than fifty million dollars and sponsored by several local companies. However, once counting the cost of hiring professional construction workers, architects and engineers at the expense, the government realized that widening the road was so expensive that they decided to abandon this plan. However, renovating and modernizing public transport including trains and buses are affordable since they only need to pay the salary of engineers.
All in all, improving public transportation is a rewarding alternative for both governments and the public, with regard to boosting transportation in every country.