作者:北美考试教学中心 托福写作组 崔国花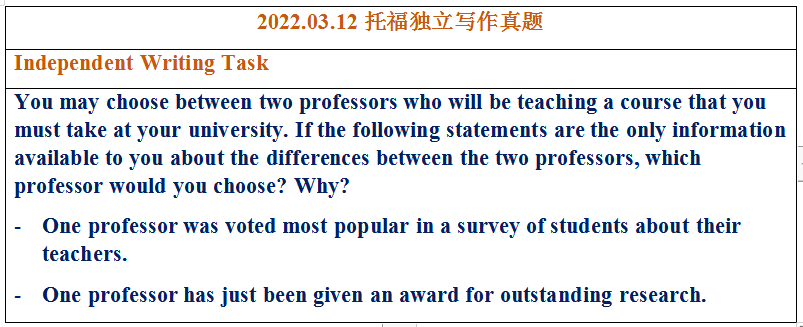 There are two types of star teachers in college: those who enjoy great popularity among students and those who gain astonishing academic achievements in their fields. If I'm going to take a compulsory course in university, I would prefer the one taught by a popular professor rather than one who just obtained an academic reward.
Admittedly, teacher popularity does not necessarily equal teaching effectiveness, but the former is often a sure indicator of the latter. If you go through a survey on rating professors, you will meet lots of questions regarding how students feel in class. This is why many popular professors are known for imparting knowledge clearly and thoroughly. In other words, their classes are easy to catch up with. Since mandatory courses play a crucial role in both gaining a diploma and understanding advanced courses, learning them well is crucial for students. On the contrary, however, academic stars are often less effective teachers for two reasons. The obvious one is that they spend so much time on their research that the time allocated to the preparation of teaching is undoubtedly limited. A more subtle reason is that sometimes it is quite difficult for highly intelligent people to understand why ordinary ones fail to understand certain parts of a course. As a result, some students complain that the classes taught by professors renowned for their research are full of information but difficult to follow.
Also, popular teachers can motivate students to pursue a certain field. One of the most frequently mentioned traits of popular teachers is that they make their lectures intriguing. As the old saying goes, interest is the best teacher. This may sound exaggerated, but everyone knows the power of being obsessed. When people are interested in something, they will spend much time and effort on it unconsciously. What's better, meanwhile, they feel entertained rather than tired. If students are attracted by a professor's course, they tend to do more research on it and have a deep understanding of the subject. For instance, political science might be one of the most boring mandatory courses for most students. However, a professor in my university adopts various classroom activities and makes his class like a reality show. Every student enjoys the whole course and learns a lot. Many students take advanced courses taught by him and some of them even change their majors. Such magic seldom occurs in other types of teachers' classrooms, whether they have achieved in academic fields or not.
To sum up, in many cases, professors gain their popularity mainly, if not totally, based on how well they teach. Therefore, if one values the quality of teaching, I strongly recommend him or her to take courses taught by popular professors instead of academic pioneers.