作者:武汉新航道北美考试院 托福写作组 肖曼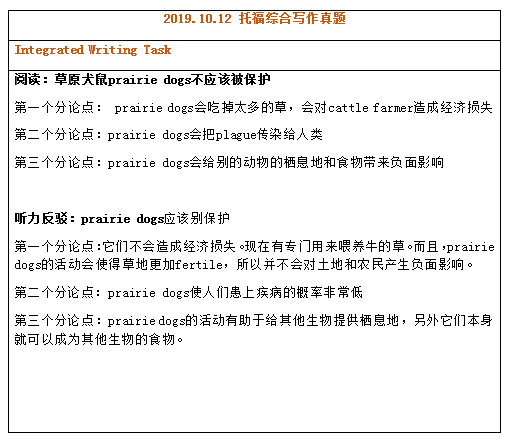 生态类依然是综合写作的常规考点,尤其是生态中的生物类。按照往年的趋势来看,生态类考题出现的比例一直都维持在60%左右,所以考生们在准备时还是要多多留意生态类考题,以及相关的表达。
关于生态类的考题,学生们可以参照TPO51, TPO49, TPO48, TPO47, TPO45, TPO43, TPO39, TPO34, TPO31, TPO29, TPO26, TPO24, TPO17, TPO10的综合写作,以积累相关的表达。尤其是其中涉及到生物保护的题目。

题目解析:
2019年三选一题目出现的概率相对较低,截止于考试日期10月12日,总计考试38场,其中三选一题目考到5次,占比13%。 相对于去年全年占比17%, 有一定的下滑。其中,四次考到教育类,一次考到个人生活类,由此可见,教育类和个人生活类依然是三选一偏爱的话题类型。
很多同学看到三选一题目就会比较头疼,因为乍一看,三选一点三个选项都是有一定道理的,都是可以选的。然而,题目让我们必须选择其中一个选项并给出合理的解释。对于这种情况,审题的关键在于,关注题干信息,尤其是限定信息,寻找突破口。这道题中,要求我们选择哪一项是适合于放学后的学生所做的事情。那么我们思考放学后的学生所具有的特点,首当其中就是累。再将这个信息与选项相关联,拖着疲惫的身体去工作只会更累,去学习乐器也不会轻松。只有运动可以帮助疲惫的人放松,这样就能想出来观点了。
推荐的结构是五段式,开头结尾加上三个主体段。一个主体段写选择所选选项的理由,另外两个选项用于去否决另外两个选项,给出理由。
以下是针对这篇文章的参考范文:
It is said that how to effectively allocate one's free time and make good use of it plays an indispensable part in his or her future development. As a result, a significant proportion of people, especially students, choose to attend various kinds of courses or activities to enrich their life. With this phenomenon comes an interesting discussion what should students do after school. Some people claims that learning to play a musical instrument would be the best, while other argue that do a part-time job or volunteer work would be much better. From my perspective, I firmly believe that learning to play a sport is the most suitable to students.
Firstly, doing physical activities is beneficial to students' health. Nowadays, students are commonly study under great pressure because of the increasingly fierce competition they face while applying for quality high schools or universities. They tend to study for hours, sitting at their desk and staring at their books or blackboards without moving. As a result, most of them are suffering from healthy problems such as headache, backache, digestive problems and mental disorder. While playing sports, students would stretch their body, which can help them relax their muscle and release their fatigue. Their metabolism can also be improved a lot, which is conducive to their disease resistance. With healthy body, students would be more energetic and active during the day, leading to better academic performance.
Secondly, doing part-time job or volunteering work seems to be plausible at first glance, as students can accumulate precious work experience through work, which helps them better adapt to work environment when they enter workplace. However, when thinking it over, we can find the potential problems. Part-time job or volunteer work provided to students are generally repetitive, boring manual work, so what students can get from them is just physical exhaustion. The experience they accumulated would make litter difference in their future career development. Besides, most of the work would be time-consuming, leaving students with limited time to have a good rest. They would feel dozy the other day and cannot concentrate on their study. Given that students' top priority is pursuing academic success, it is absolutely not wise for them to waste their time on doing work.
Thirdly, earning to play a musical instrument also seems to be a perfect choice. It is common to see that people with music talents gain more popularity in the society, which contribute to their social network. However, it is not suitable for students after a whole day's hard work. Learning a musical instrument is never an easy job. It requires constantly practice and focus, which may result in students' mental exhaustion. More importantly, playing music is intellectually demanding, which means students who do not show talent in this field would find it extremely difficult to keep pace with their counterparts or get improvement. In such case, they are very likely to lose confidence and become increasingly unsatisfied with themselves. Therefore, instead of relaxing their mind, playing music actually adds to their pressure, which is the last thing we'd like to see.
After taking everything into consideration, i can safely draw a conclusion that given that playing sports can help improve students' health and thus have a positive influence on their study, it is surely the most suitable to them during their free time of night, compared with learning to play a musical instrument.